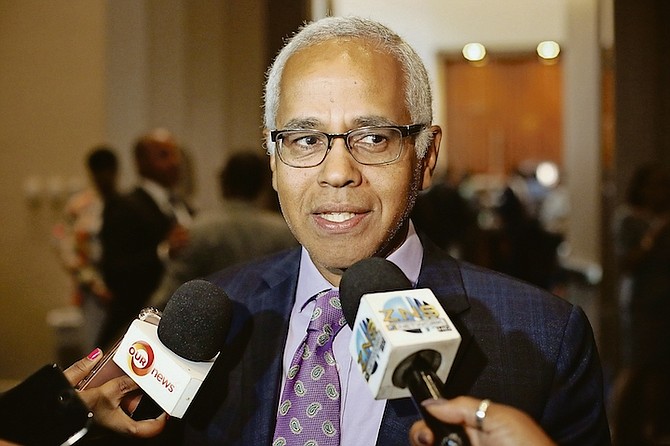 THE Gaming Board is overstaffed by "about 40 employees," Tourism Minister Dionisio D'Aguilar said yesterday, adding that with demand for technical experts so high in the institution, the days are over when people could show up with a "paper and a pad" and get a job.
His comment came after The Tribune's report that 18 people were let go from the Gaming Board last week.
Prime Minister Dr Hubert Minnis' Press Secretary Anthony Newbold said the people let go had expired contracts or were on probation. Mr D'Aguilar, however, said the released employees include people who were "hired just before the general election" as well as people who were already receiving a pension.
"The Gaming Board has had an enormous increase in staff and the problem with the complement of persons who were in the Gaming Board is, you really now need a cadre of IT, tech-savvy individuals to monitor the activities of people involved in the gaming industry," he said.
"The background and the training of the employees of the Gaming Board is shifting from more traditional, less tech-savvy people to people who have to understand gaming and who have to be able to dig themselves into computer systems of the gaming houses and see that they are complying, see that the information we are requiring is being provided, see that the houses are paying out the right amounts, etc.
"It's not walking in with a piece of paper and a pad, those days are gone. Those are the easiest people to hire but that's not what the Gaming Board needs."
Mr D'Aguilar could not say how many of these tech-savvy people the Gaming Board needs, but he was emphatic the institution does not have them now.
"The Gaming Board is probably overstaffed by about 40 people," he said.
Mr D'Aguilar believes most government institutions are overstaffed. However, he said the Minnis administration won't reduce the public sector's labour force by as much as it would if it were running the government like a business.
"Don't paint the picture that we are a heartless group of merciless businessmen who are now applying that view to government departments," he said.
"It's not your own company and governments are minded to be kinder, gentler and as a result you don't apply hard-nosed business principles to government corporations. I don't have the power and I don't think the Bahamian people voted us in to be that ruthless and as cold. Maybe over time if we can grow the economy and we can provide sufficient private sector jobs, then people could start to shift. (The) previous government dealt with its employment problem by employing people by the state."
Meanwhile, Public Services Minister Brensil Rolle said about half of the 126 pensionable workers his government is targeting to let go have retired since the Minnis administration came to office.
"Some have retired," he said, acknowledging they did so after prodding from the government.
"We've made the judgment that we're not prepared to pay both salaries and pensions in these tough times and we've been examining individuals who fall in that category. In case of technical officers, we've given them some time to separate with the condition that someone will be trained to replace them. It's about half, just about 50 per cent so far. We're still speaking and will engage others. It's a progressive programme that we are looking at and examining."
Check out more info at the Source link for this article!