Article authored by Jesse Medcalf, Integer Investments analyst
Introduction
Earlier this month we began analyzing the gaming industry. We started with Activision Blizzard (NASDAQ:ATVI) and today we continue with Electronic Arts (NASDAQ:EA).
Electronic Arts is a video game developer founded in 1982, currently the second largest in the North American and European markets with a market cap of $36 billion, behind Activision Blizzard at $47 billion. The gaming development industry is highly competitive, with a number of players, including Take-Two Interactive (NASDAQ:TTWO), Konami (NYSE:KNM), Ubisoft (OTCPK:OTCPK:UBSFY), Capcom (OTCPK:CCOEY), and Sony (NYSE:SNE).
Its most successful products are its EA Sports range including FIFA, Madden NFL and NBA live; old franchises such as Battlefield, Need for Speed, and The Sims; and new titles such as Mass Effect and Crysis.
It is one of two dedicated gaming companies on the S&P 500, along with Activision Blizzard.
Though many of its sports titles are distinctly American, the company derives 70% of its revenues from foreign sales, so appeal to the global market with its new titles will be crucial.
Gaming Continues Breakneck Growth
Overall sales, including hardware, software, and accessories, rose 19% Y/Y to $588M during July, according to NPD Group, while PC and console software were up 14% and 17%, respectively. A large portion of that increase across the board belonged to ATVI's Crash Bandicoot renaissance, with the game's sales in its second month since release edged out only by Nintendo's (OTCPK:NTDOY) new release Splatoon 2 in July sales. EA's highest performer on this list was Battlefield 1 at number 18, dogged by a failure to release many new titles in 2017.
However, in August, both sides of the picture reversed. Total spending on gaming was down 3% Y/Y, as the tailwind from the Nintendo Switch console began to wane, as reflected in the 6% drop in hardware sales. With the holiday season edging ever closer, many consumers put their wallets on hold as they await a spending spree. EA though managed to buck the trend with its release of Madden NFL 18, which topped game sales for August.
Looking forward, Newzoo predicts that the global video game industry will grow at a CAGR of 6.2% from $101.1 billion in 2016 to $128.6 billion in 2020. The interesting segment, though, is mobile gaming, with its revenue set to grow 68% from $38.6 billion in 2016 to $64.9 billion in 2020, with its share of the total market increasing from 29% to a full 50% over that time frame.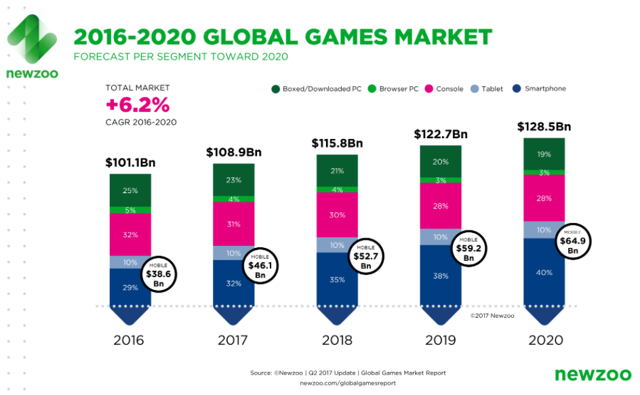 (Source: newzoo report)
Tangentially, eSports are a major growth driver, with the spin-off industry operating as a distinct but intrinsically linked part of the gaming world. ESports are organised, multiplayer gaming competitions. Tournaments and leagues exist for a number for different games from across multiple genres (first person shooters, strategy, sports), though some tend to lend themselves better to the competitive format than others. Audiences watch both live in stadiums and at homes via live streams, cheering on particular teams or individuals who often play for prize money.
The global eSports economy experienced year-on-year growth in 2017 of an incredible 41.3%, as ultra competitive gaming and the commercialisation of audiences as well as players becomes crashes into the mainstream. The global eSports audience will reach 385M in 2017, with 191M Enthusiasts – defined as those that watch eSports more than once a month and/or participate in (amateur) eSports leagues. This places it as a similar size to basketball with an estimated 400M fans and growing much more rapidly.
As countries become richer, leisure time increases, and gaming is proving to be the leisure activity of choice in the modern world. The gaming world shows no signs of slowing down, especially in the mobile and eSports segments, which are at the forefront of a landscape that is making gaming both more competitive and intertwined with the great downtime bastions of old, social media and television. The question, though, is whether EA can capitalise on these movements, or be consigned to the history books.
EA's ESports Offerings
With the backing of the NFL, Electronic Arts is hoping to contribute to the gradual mainstreaming of eSports, extending its reach to a different type of gamer. With its sports heavy suite, the company has built a large customer base of armchair athletes, who have the potential to transfer their yelling at the TV into eSport action.
The Madden NFL Club Championship, launched this week alongside the iteration of its latest game.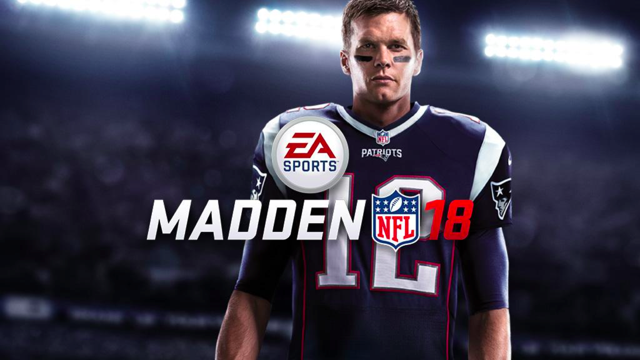 (source: EA)
The unique difference between this and other eSports leagues, is that all others are made up of investor-backed professionals with corporate sponsors. EA's Madden tournament on the other hand, is open entry, with the only current limitations that players must be residents of North America, the U.K. or Germany, and over 16.
"The beauty of this is it is completely inclusionary," which "drives the profitability of the business" says Andrew Wilson, EA's CEO. This model is different to League of Legends or ATVI's Overwatch League, in that EA is putting less emphasis on the eSports audience, and more on the players. In those leagues, audiences are driven to watch highly skilled professional players executing gameplay that they wish to emulate. For the Madden league, audiences are likely to be near non existent until finals time.
Like most eSports this will take place largely online, corresponding with the football season. The best competitors from this league will compete in the physical world, brought in to matches at NFL stadiums with live paying audiences.
In addition to the Madden tournament, EA is developing a similar product for football alongside FIFA with its game series of the same name.
The revenue drivers are much like regular sports: constituted by sponsorships, ticket sales, merchandising and broadcast rights.
One benefit of this open entry amateur model, is that the cost of professionals can be excluded. ATVI's Overwatch league for example drew criticism by requiring large investor sums for owner backed teams, as team owners were required to pay their players salaries and provide health-insurance benefits.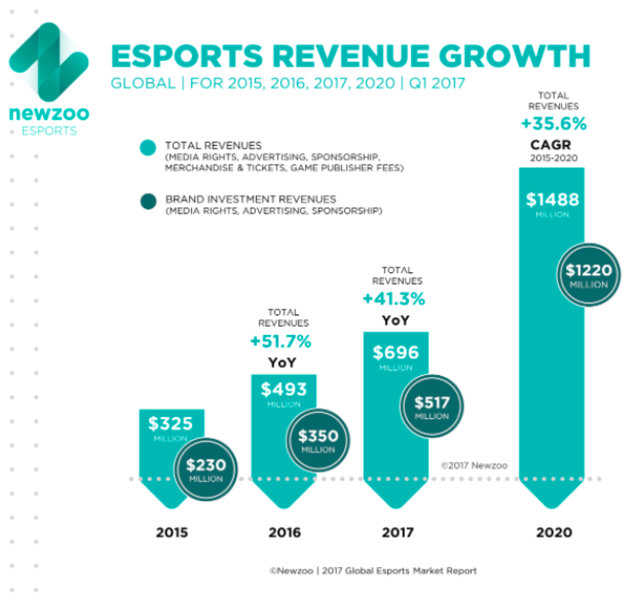 (Source: newzoo report)
One critical issue for the league though is Madden's quality. Electronic Arts has signed anongoing deal with the NFL for exclusivity, shutting out new competition and closing down Take Two's NFL 2K. Fans have maligned this lack of competition in fostering a series that has found little need to innovate, and thus does not attract the same level of respect as NBA 2K.
Secondly, a reason to doubt the upcoming league is the difference between sporting and fantasy games. Sports attempt to simulate real life, and thus face a "balance" problem – it's difficult to tone down Tom Brady's stats without making the game fail to resemble real life. League of Legends or Overwatch producers on the other hand, can tweak their made up characters so that none are overpowered. This element of unfairness can lead to a less professionally competitive environment. Moreover, there is simply a negligible current base for Madden, FIFA or any other sports based eSports. Whilst fans of League of Legends have no alternatives to the professionals, basketball and football fans readily turn to the real thing. With a significantly smaller user base, and only afew thousand viewers of their 2016 eSports tournament, it is unclear that EA will reap large gains from this venture.
Mobile Investments
If eSports are not particularly promising relative to competitors, mobile is where EA could shine.
In their Q1 report, EA noted that particularly their mobile titles contributed to earnings growth, delivering net sales of$150 million, up 6% year on year.
FIFA Mobile expanded to more than 95 million unique players, while NBA Live Mobile topped 70 million, the Sims community grew monthly active users by 20% all in Q1. There is a new Sims Mobile game, Sims 4 in soft launch, which should contribute to revenues throughout Q2.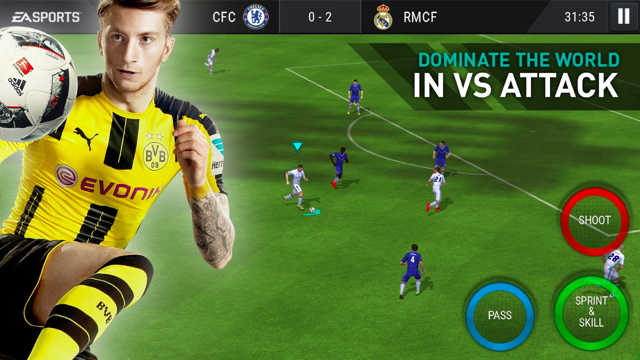 (source: Google Play)
These are still small titles compared with ATVI's juggernaut Candy Crush, has314 million monthly active users this year, and many more total unique downloads. However, as Candy Crush wanes in popularity, EA's games are new to the market and likely to provide a mobile boost over the coming years. Where EA struggles is in lacking the incredibly addictive brand of puzzle games with level up facilities and a strong tug on the wallet for upgrades. These are the games that have allowed mobile revenues to balloon, but EA has not yet been able to capitalise.
Upcoming Titles
Until the end of the year, EA plans to release its sporting series updates to accompany the recently released Madden 18, including FIFA 18 and NBA Live 18. It will also revamp successful non-sports titles, Need for Speed Payback and Battlefront 2 of the Star Wars world. Notably though, amongst these upcoming titles is little innovation. Whilst solid franchises re-released with popular updates will provide a steady revenue stream in the year to come investors looking for a company that will capture the high levels of growth that the industry promises more broadly may be disappointed.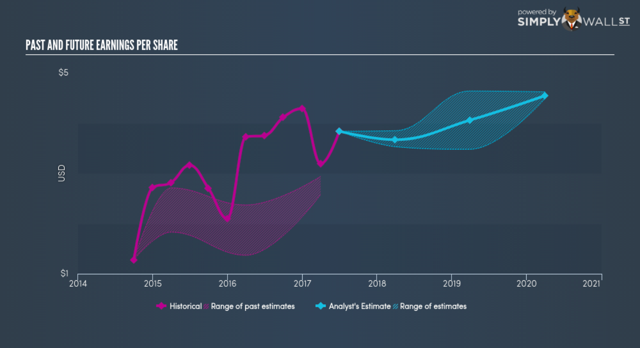 (source: Simply Wall St)
Conclusion
The gaming industry is growing rapidly. Two areas of potential growth stand out; mobile and eSports. EA is moving in the right direction in both areas, attempting to transition its successful collection of franchises into these new worlds. However, the potential of its current offerings in these areas are limited, and in order to keep pace with companies like ATVI that are making significant global investments into eSports, and command a wider breadth of mobile titles, EA will have to innovate significantly from its current trajectory. Investors looking to derive returns from an industry in the spotlight are perhaps better to look elsewhere.
As always, thank you for reading. If you wish to follow our future articles, just click the "Follow" button next to our name at the top. If you would like us to cover a company, please let us know in the comments. Thank you for reading.
Disclosure: I am/we are long ATVI.
I wrote this article myself, and it expresses my own opinions. I am not receiving compensation for it (other than from Seeking Alpha). I have no business relationship with any company whose stock is mentioned in this article.
Editor's Note: This article discusses one or more securities that do not trade on a major U.S. exchange. Please be aware of the risks associated with these stocks.
Check out more info at the Source link for this article!