Porting Blizzard's blockbuster hit Overwatch PC game to Android/iOS could prove profitable. Activision Blizzard's (ATVI) management should take a serious look on how Tencent (OTCPK:TCEHY) successfully ported its hit League of Legends PC game to the mobile platform. Tencent created a Chinese Android/iOS port of its freemium League of Legends MOBA (Multiplayer Online Battle Arena) PC game last year. Tencent called it Honor of Kings (also known as King of Glory).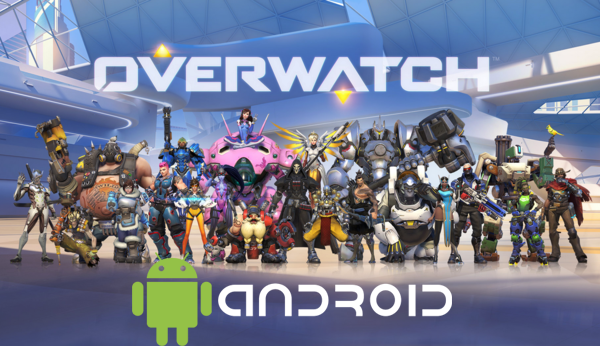 Source: Motek Moyen/Activision/Google
Honor of Kings achieved 50 million daily active players earlier this year. It is now generating estimated monthly sales of 2 to 3 billion ($290 million to $435 million) during the lunar period. In fact, Honour of Kings' runaway commercial success is largely credited for Tencent's revenue surge from mobile games. Tencent's FY16 revenue from games was $10.2 billion. Honor of Kings' current monthly sales of $290 million means it is Tencent's emerging biggest revenue generator.
The PC MOBA League of Legends had estimated revenue of $1.6 billion last year. Honor of Kings could gross more than $2.3 billion this year. My point is that, like Tencent, Activision should aggressively go after the huge spending power of mobile gamers.
Yes, Blizzard now has more than 30 million registered players of Overwatch (PC & Console versions). It probably also meant Activision sold 30 million copies to PC and console players at retail price tags of $39.99 to $59.99.
On the other hand, Activision could also sell 30 million copies of Overwatch to Android/iOS players. Activision could sell an iOS/Android version of Overwatch for $9.99. Further monetization could be done through in-app purchases of new heroes, skins, and other vanity items.
In-app purchases by people is why mobile is now the biggest market for video games. Out of the estimated $91 billion in revenue generated by video games in 2016, mobile accounted for $40.6 billion.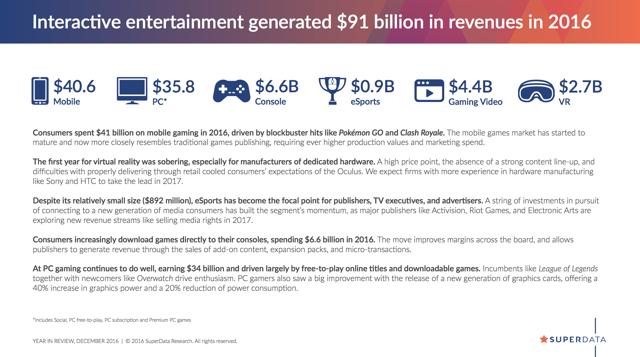 (Source: SuperData Research)
Candy Crush Should Not Be Activision's Sole Focus On Mobile
Yes, Activision has a still-strong cash generator on mobile from King Digital's Candy Crush Saga franchise. However, Activision's future in mobile is endangered if it could not come up with other hit mobile games. There are other mobile gamers that do not like the Candy Crush match-3 puzzle gameplay.
Porting action/adventure PC games like Overwatch or Diablo to mobile should cater to other types of mobile gamers. Making mobile versions out of PC games should also not entail too much development time and resources. The same developers and programmers who created the PC version of Overwatch could port it quickly to Android and iOS if ordered to do so.
It might also be decisive to take advantage of the lack of an English version of Honor of Kings. Activision has a struggling PC MOBA game called Heroes of the Storm. Compared to League of Legends, Heroes of the Storm is often called a flop. The point is that Activision should also try to make Android and iOS ports of its unsuccessful PC or console games. There is still a chance that mobile gamers will like them.
Heroes of the Storm could prove to be a hit on mobile because there is no single English mobile MOBA game that dominates in the industry. The only competition would be Shanghai Moonton's Mobile Legends. According to SensorTower, Mobile Legends has consistently generated net monthly sales of $6 million ($4 million from Android, $2 million from iOS). Mobile Legends is primarily popular only in South East Asia.
Blizzard could spend $10 million to create Android/iOS versions of Heroes of the Storm. It can allocate another $30 million promoting/marketing it in North America and Europe. Call the mobile version of Heroes of the Storm as League of Heroes. Maybe Americans and Europeans addicted to League of Legends will get curious about it.
Final Thoughts
Activision has an urgent need to increase its mobile games portfolio beyond the Candy Crush Saga franchise. It should not only be King Digital employees working on making a mobile game out of the PC Call of Duty franchise. The Activision people responsible for developing Overwatch and Heroes of the Storm should also be put to work making mobile versions of the said games.
I still rate ATVI as a Buy. Activision Blizzard has a number of hit PC and console games that could be monetized on Android and iOS platforms. I am highly confident that even the declining World of Warcraft PC MMORPG could be revived by creating mobile versions of it.
Aside from attracting new customers from Android/iOS users, Blizzard's old World of Warcraft subscribers could come back if they can play the game on their tablets and phones. The reality now is that tablets and mobile phones are now the go-to choice for any gamer who doesn't like to get stuck sitting for hours in front of a PC.
Disclosure: I am/we are long ATVI, TCEHY.
I wrote this article myself, and it expresses my own opinions. I am not receiving compensation for it (other than from Seeking Alpha). I have no business relationship with any company whose stock is mentioned in this article.
Editor's Note: This article discusses one or more securities that do not trade on a major U.S. exchange. Please be aware of the risks associated with these stocks.